Industrial Drum Heater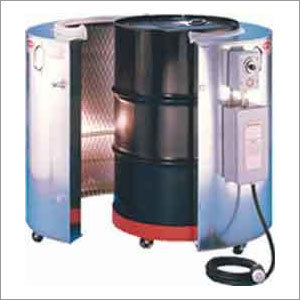 Industrial Drum Heater
Product Description
Backed by the rich experience of the industry, we are engaged in manufacturing and supplying optimum quality
Industrial Drum Heater
. This heater is designed for providing heat to the cans, containers, drums and other industrial packaging items. It can be pumped and emptied more easily because this heater reduces the viscosity of a fluid. In addition, our provided
Industrial Drum Heater
is highly recognized by people due to its excellent efficiency, compact design and excellent mechanical strength.
Features:
Fastening via hooks and tension springs
Contains double insulated heat conductors
Made of silicone-coated glass fiber mat
Technical Specifications
| | |
| --- | --- |
| Frequency | 50 Hz |
| Voltage | 220-415 V |
| Size | Suitable for Std 200 Ltr Drum |
| Heater Material | SS & MS |
| Power | 6kW |
| Capacity | 200 ltr Drum |
| Temperature | 30-100 Degree C |
| Product Type | Drum Heater |
| I Deal In | New Only |
| Phase | 1 / 3 Phase |
| Color | Red |
| Brand | Integro |
| Litre | 200 |
| Country of Origin | Made in India |
FAQs:
Q: What is a drum heater?
A: A drum heater is a specialized heating device designed to warm up the contents of drums or barrels. It is specifically used to heat viscous materials, such as oils, chemicals, food products, and other substances stored in drums, to facilitate their handling, processing, or dispensing.
Q: How does a drum heater work?
A: Drum heaters typically consist of an insulated jacket or blanket that wraps around the drum, along with integrated heating elements. These heating elements generate heat, which is transferred to the drum's contents through direct contact. The drum heater provides controlled heating to raise and maintain the temperature of the stored material.
Q: What are the benefits of using a drum heater?
A: Using a drum heater offers several advantages. It helps to maintain the desired temperature of the contents, preventing freezing or solidification. This is particularly important for substances that need to remain in a liquid or flowable state. Drum heaters also promote efficient and consistent heat distribution throughout the drum, ensuring uniformity in the material's temperature.
Q: What are the applications of drum heaters?
A: Drum heaters find applications in various industries and sectors. They are commonly used in manufacturing, chemical processing, pharmaceuticals, food and beverage, and other industries that deal with storing or processing materials in drums. Drum heaters are particularly useful for heating substances before dispensing, mixing, or further processing.
Q: Are drum heaters safe to use?
A: Drum heaters are generally safe to use when used according to the manufacturer's instructions and guidelines. They are designed with safety features such as temperature controls, thermal sensors, and insulation to prevent overheating and ensure safe operation. It is important to follow proper safety precautions, such as monitoring the temperature and avoiding overheating or exceeding the recommended temperature limits.