Freeze Protection Heater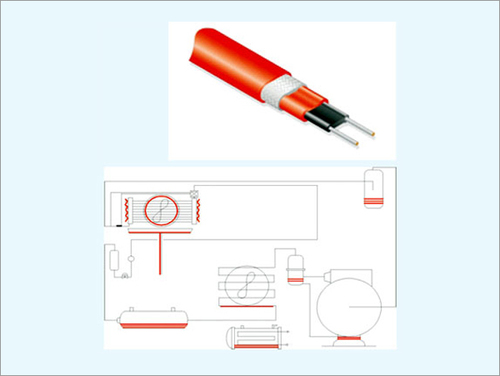 Freeze Protection Heater
Product Description
Integro's Heating Solution for Freezer/Cold Rooms
Integro Engineers Pxvt. Ltd
has been providing turnkey solutions to various industries since 1995. We take pride in working to understand your business and suggesting solutions that make sense technically, economically and operationally. Achieving the highest quality standards and sustaining them over an extended period of time has been the cornerstone of our success. As a reflection of our international quality standards, we hold ISO 9001:2008. We have a joint venture with Heat Trace Ltd, U.K.
Based on the self- regulating technology, the heating cables are manufactured in U.K and covers the entire range of heating applications in Cold/Freezer room. The Self Regulating design renders the heater burnout proof particularly at 'cross-overs' as the output will vary over its entire length depending on temperature.
We offer Heating solution for:
Frost Heave protection (Underfloor heating)
Freezer door
Freezer drain Lines
Fan cowling
Viewing glass
Compressor body
Dip tray
Safety vents
Fire protection Sprinklers
Evaporator Bends
Frost Heave Protection
The substrata of freezer floors can withstand cold temperatures for a period of time; however, the ground temperature will eventually drop below freezing. At that point, if water is present in the substrate, frost heaving of the freezer floor will occur. The floor and subfloor design includes multiple layers of concrete and insulation. Without a floor heating system, the soil temperature would fall below freezing and an ice lens would form that would cause buckling of the cold storage floor.
Efficient Frost Heave solutions by Integro
Integro's heating cables or heating mats are ready to use and comprising of Self regulating heating cables either laid directly on the cold room floor or fitted on mats for ease of installation
Operating Voltage: 110,208, 230, 277 VAC
System details
The system comprises of Heating cables/ heating mats, weatherproof junction boxes, power and end boots for termination, Interconnecting power cable and Control unit.
Advantages:
Energy efficient and trouble free operation.
Safe self regulating cables used.
Low maintenance cost nearly zero
Integro's engineered system provides energy efficiency and low maintenance.
Savings throughout the operational life of the cold storage facility.
Cool room doors
Self Regulating heater cable installed in the door seal increases the surface temperature above 0C and prevents ice forming between frame and door
Drain lines
The drain line from the drip trays requires heat to prevent ice formation. The heat tracer is attached to the underside of the pipe in one straight run, or spiralled if required. Heating cable may also be run inside the pipe provided the connection and end seal are external.
Fire protection sprinklers
Where these are installed in cool rooms trace heating will be required to prevent freezing on exposed pipe work and fittings. The heater cable rating will depend on the cool room temperature, pipe size, and insulation thickness.
Drip trays
Drip trays are required to collect water droplets from the evaporator coils during defrost cycles. Formation of ice may be prevented by laying a heater cable in the tray, alternatively, attached under the tray. The spiral pitch should be 150- 200mm, and the underside of the tray should have a minimum of 25mm insulation.
Fan cowlings
Fan cowlings on evaporator-blowers may 'ice up' and cause fan seizure. This may be avoided by spiralling heater cable around the cowling at 50- 80mm centres. Aluminum foil tape and insulation over the heater would assist.