Dehydrators Air Driers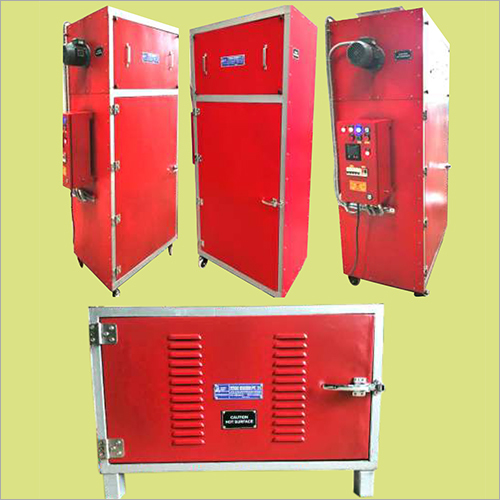 Dehydrators Air Driers
Product Description
For more than 20 years, Integro has been providing innovative and affordable technical solutions. A wide range of Process Industries are served by our diverse portfolio. As an ISO 9001: 2015 certified company, we have worked tirelessly to assist our customers over the years. More than half of our clients have been with us for more than 15 years, while others have been with us for decades. Aside from meeting very stringent industrial requirements, our Products, Systems & Services are renowned for their reliability, safety, and optimized performance. The manufacturing facility of our company is in Greater Noida in Surajpur Industrial area, and there is an efficient quality control team and a highly trained manufacturing team. Our after-sales services are also provided by highly qualified staff. Operational areas include Pan-India, Africa, and Middle East
FEATURES OF INTEGRO'S DEHYDRATOR
The design facilitates even air flow throughout all trays and the control of temperature.
Designed to save energy with partial recirculation. Adding fresh air, discharging waste heat, continuously adding fresh air while continuously exhausting warm and humid air, results in reducing the temperature difference inside a chamber, maintaining the appropriate humidity.
Its quiet operation (low noise) makes it suitable for use in residential, industrial, and commercial properties.
Easily installed and maintained, temperature controlled, and reliable and safe operation.
Suitable for a wide range of applications; fruits, vegetables, herbs, jerky, etc.
Constructed from strong materials with options for SS and MS bodies. Options for trays include SS or aluminum.
Providing adequate thermal insulation protects humans against burn dangers and minimizes heat loss.
Technical specificaons-4 tray
| | |
| --- | --- |
| Type | Single door, air convection with heating |
| Overall Size | 825x750x450(H) |
| Capacity | 4 trays. |
| MOC | Dehydrator Body CRCA. Trays SS304. |
| Operating voltage | 230V, Single phase , 50HZ |
| Heat Load | 2 KW |
| Control Box | MCB for Fan / Heater and ON indication with Thermostatic control |
Technical specificaons-12 tray
| | |
| --- | --- |
| Type | Single door, air convection with heating |
| Overall Size | 1150x650x1900(H) |
| Capacity | 12 trays. |
| MOC | Dehydrator Body CRCA. Trays SS304. |
| Operating voltage | 415V , 3 phase, 50HZ |
| Heat Load | 3 KW |
| Control Box | MCB, Contactor and temperature controller, RTD,PT100 |
Technical specificaons-24 tray
| | |
| --- | --- |
| Type | Single door, air convection with heating |
| Overall Size | 1150x1150x1900(H) |
| Capacity | 24 trays. |
| MOC | Dehydrator Body CRCA. Trays SS304. |
| Operating voltage | 415V , 3 phase, 50HZ |
| Heat Load | 6 KW |
| Control Box | MCB, Contactor and temperature controller, RTD,PT100 |
Technical specifications: - 48 Tray
| | |
| --- | --- |
| Type | Double door, air convection with heating |
| Overall Size | 2400x1200x2300(H) |
| Capacity | 48 Trays |
| Trolley car | 2 nos with wheels. |
| MOC | Dehydrator Body CRCA. Trays SS304. |
| Base | ISMC 100x50 MS |
| Structure | ISQ 50x50 MS |
| Operating voltage | 415V, 50HZ |
| Heat Load | 12 KW |
| Control Panel | MCB, Contactor and temperature controller, RTD,PT100 |
Technical specifications: - 96 Tray
| | |
| --- | --- |
| Type | Double door, air convection with heating |
| Overall Size | 2400x2000x2300(H) |
| Capacity | 96 Trays |
| Trolley car | 4 nos with wheels. |
| MOC | Dehydrator Body CRCA. Trays SS304. |
| Base | ISMC 100x50 MS |
| Structure | ISQ 50x50 MS |
| Operating voltage | 415V, 50HZ |
| Heat Load | 24 KW |
| Control Panel | MCB, Contactor and temperature controller, RTD,PT100 |

Technical specifications: - 192 Tray
| | |
| --- | --- |
| Type | Double door, air convection with heating |
| Overall Size | 4500x2000x2300(H) |
| Capacity | 192 Trays |
| Trolley car | 4 nos with wheels. |
| MOC | Dehydrator Body CRCA. Trays SS304. |
| Base | ISMC 100x50 MS |
| Structure | ISQ 50x50 MS |
| Operating voltage | 415V, 50HZ |
| Heat Load | 48 KW |
| Control Panel | MCB, Contactor and temperature controller, RTD,PT100 |