Electrical Heat Tracing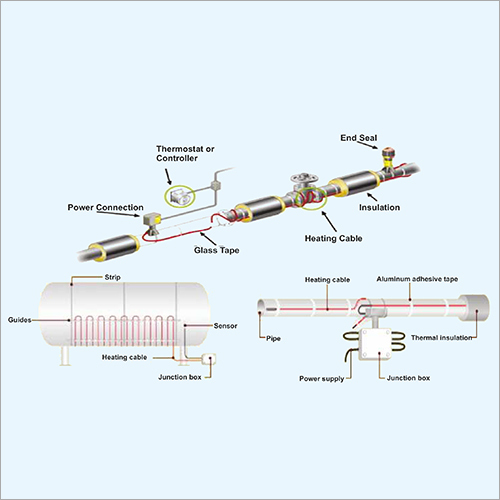 Electrical Heat Tracing
Price And Quantity
Piece/Pieces

10000 onwards INR
Product Description
Application
Electrical heat tracing is a method of applying heat to pipes, tanks, instruments & associated equipment using heating cables. The heating cable is used to heat a product as it flows through pipes/equipment and also to heat products contained within vessels. Electrical heat tracing is a method of applying heat to:
Liquid for preventing freezing and reducing viscosity.
An anti-condensation powder to prevent clogging, condensation on walls of the equipment.
Gas that prevents hydration due to drops in pressure across pipework fittings such as valves.
The main use of the heat trace is to maintain the product at the right temperature to prevent processing problems, and is also useful for heating pipelines and equipment.
The general components of an electric heat tracer are:
Heat tracing cables
Junction Boxes for power/ end/splice/TEE
Mounting stands and hardware
Termination Kits
Temperature sensors (RTD/Thermostat)
Adhesive tapes
As part of the electrical heat tracing system, there are:
Control/Distribution panel
Transformer (optional)
Power and control cables
Earthing material
Cable trays
Glands and shrouds
Heat Tracing Cables
Integra's heat tracing cables provide the highest output and greatest temperature withstand. Heat tracers have international approvals by IEC X, CSA, FM, ATEX and EAC for use in classified hazardous areas
The range involves the following:
Self regulating heat tracer
Parallel Constant wattage heat tracer
Series Long line heating cable
Skin effect heat tracing system
Tubing bundle
Series constant wattage heat tracer
Mineral insulated (MI) constant wattage heating cable
Power limiting heating cables
Junction Boxes
A junction box from Integro for terminating heat traces for power, end, splice TEE and larger cable terminations is available (field junction boxes). Junction boxes can be used in safe areas, hazardous areas, or in corrosive environments.
MOC: LM6, SS304, CRCA, FRP. Protection class IP65
Temperature Sensors
An L-shaped RTD (PT100) and an enclosed thermostat designed for installation on pipelines and tanks.
It can be installed safely in hazardous areas.
Mounting stands and installation hardware
Mounting stands and hardware are available for junction boxes, field junction boxes, and temperature sensors. A custom mounting stand can also be provided for distribution panels. MOC: MS powder coated or SS304, as per site requirement